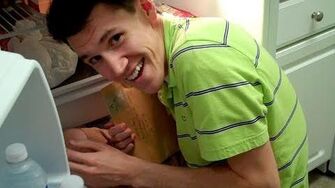 Previous Vlog (Day 548) | Next Vlog (Day 550)
Locations
Edit
Movie Theater - Savannah, Georgia
Stephen's Car
Stephen's Dorm - SCAD
With only a week left until the end of the soda challenge and eight days until Stephen and his dorm mates graduate from SCAD, there's just a few more things to do! First off, it's a movie day with Stephen, Alex, and Taylor featuring Nick seeing The Hangover Part II! Then, it's mail time with Stephen and Dan as they read a letter from Robert in England in the United Kingdom, which contains stickers galore! What happens next? Stay tuned at the end to find out!
Robert has two YouTube channels, which Stephen linked in the description: rob0mad (Sadly no longer exists) and The1NintendoFreak.
As of this vlog, mail can no longer be sent to Stephen's dorm at SCAD, as forewarned at the end of Day 547. His current mailing address can be found on the Abouttab of the channel for StephenVlog. Mail that was sent prior that hasn't arrived was either delivered to Stephen during the remaining week at his dorm, or was forwarded to him back at his parent's house in South Carolina.
The end clip of this vlog was chosen by fans as a Fan Favorite Moment in the Second Fan Favorite Moments video.
Stephen:"And if you want to send a letter in...too bad! You have missed your chance!"
Stephen: "I think at least one of these stickers should go up on your Stop Sign of Humanity. Also I just named your stop sign."
Stephen: "I'm gonna get back in the refrigerator now..."

Stephen: "NO IT'S A JOKE! I'M RIGHT HERE! I WAS NEVER ACTUALLY IN THE REFRIGERATOR! I got you guys! WOO! *BANG!*"
Ad blocker interference detected!
Wikia is a free-to-use site that makes money from advertising. We have a modified experience for viewers using ad blockers

Wikia is not accessible if you've made further modifications. Remove the custom ad blocker rule(s) and the page will load as expected.