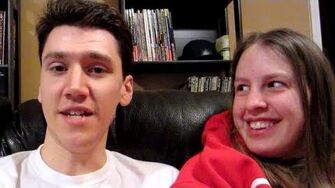 Previous Vlog (Day 1185) | Next Vlog (Day 1187)
Locations
Edit
Stephen and Mal's apartment
Mal was having a lot of trouble with her contacts earlier today, so she and Stephen had to go to Costco to get those changed. While there, they came across a very rude elderly man who was making snide remarks about the staff trying to help him. Eventually the man tried to speak to them directly, at which point Stephen and Mal could do nothing else but smile and nod. Stephen asks the viewers if they have been in similar situations, and what they decided to do about it.
Ad blocker interference detected!
Wikia is a free-to-use site that makes money from advertising. We have a modified experience for viewers using ad blockers

Wikia is not accessible if you've made further modifications. Remove the custom ad blocker rule(s) and the page will load as expected.