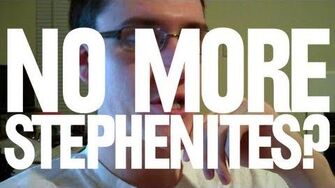 Previous Vlog (Day 688) | Next Vlog (Day 690)
Locations
Edit
Stephen and Mal's apartment
Stephen uses this Vlog to post three questions to the viewers.
What do people think about the annotations on the Portal 2 series?
What do viewers think about starting up a new series called Demo Fridays? What games should Stephen demo?
Should we stop calling the viewers "Stephenites"?
Stephen poses the latter question since the title seems to put up a barrier between Stephen and his viewers, whom he doesn't want to call "followers". He asks if the viewers would prefer to be called "Nites" instead (he quickly addresses this in the next day's vlog).
Stephen is still doing either a Demo Fridays or a First20 video every Friday on the Let's Play channel.
Ad blocker interference detected!
Wikia is a free-to-use site that makes money from advertising. We have a modified experience for viewers using ad blockers

Wikia is not accessible if you've made further modifications. Remove the custom ad blocker rule(s) and the page will load as expected.