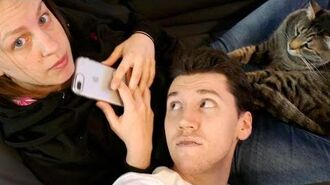 Previous Vlog (Day 2625) | Next Vlog (Day 2627)
Locations
Edit
Stephen and Mal manage to wake up before noon once again, and record another round of episodes for Ocarina of Time.
Stephen talks about how good it felt to be back playing an adventure game, and how it let them be silly. He also discusses his plan for structuring the episodes.
He also mentions that Mal went to the dentist to get a toothache checked up. They hadn't had health insurance since Mal resigned, but since they were able to get insurance with the ACA at the start of the year, they were now able to go the dentist, though a different one from before.
Mal returns with a positive impression of the new dentist, and reports no cavities. Stephen then shares his lack of luck at the dentist, and how they always find cavities in his teeth.
Stephen ends the vlog by talking about how happy he is about their fixed sleep schedule and hopes to keep it up.
Ad blocker interference detected!
Wikia is a free-to-use site that makes money from advertising. We have a modified experience for viewers using ad blockers

Wikia is not accessible if you've made further modifications. Remove the custom ad blocker rule(s) and the page will load as expected.