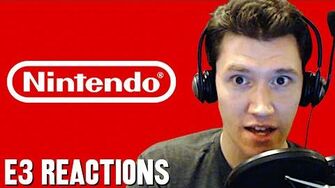 Previous Vlog (Day 2395) | Next Vlog (Day 2397)
Locations
Edit
Stephen and Mal's apartment
Stephen watches Nintendo's conference live stream from E3 2016 and gives his reactions. He really doesn't enjoy the stream format in the place of a press conference, and ends up scanning through the 8-hour stream for some highlights.
Stephen is interested in Paper Mario: Color Splash, but he's probably most excited for the new Zelda game. It might be fun for him and Mal to do a collaborative blind Let's Play on the new game if and when it comes out.
Ad blocker interference detected!
Wikia is a free-to-use site that makes money from advertising. We have a modified experience for viewers using ad blockers

Wikia is not accessible if you've made further modifications. Remove the custom ad blocker rule(s) and the page will load as expected.