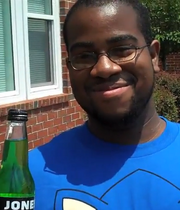 Nick is one of Stephen's friends from college, who frequently went on his grocery store runs every week. He has also appeared on GTA Online. He also returned to the vlog after not being there fo 4 years by attending Cheffcon 2015. He has also been in MotionDan's Podcast (7 minutes with Dan) and has appeared in 3 episodes in the Stephen and Friends series where he was featured in both Left 4 Dead 2 Streams and the Wii Sport Resort 3 point contest. He is also close friends with Alex, Dan, Taylor, and Stephen.
Ad blocker interference detected!
Wikia is a free-to-use site that makes money from advertising. We have a modified experience for viewers using ad blockers

Wikia is not accessible if you've made further modifications. Remove the custom ad blocker rule(s) and the page will load as expected.