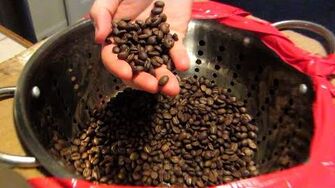 Previous Vlog (Day 1710) | Next Vlog (Day 1712)
Locations
Edit
Stephen's car
Charleston, WV
Dayton, OH
Muncie, IN
Stephen and Mal make the final drive from Charleston to Muncie, Indiana. The last time they visited Paul in Ohio, they discovered the deliciousness that was Graeter's ice cream, so they decide to make a stop there on the way.
After getting to Chaz's house, they play some games and watch Santa Claus and the Ice Cream Bunny with RiffTrax. The film makes everyone laugh really, really hard - Stephen says that it is one of the "best" films he has seen.
Jeff also shows off his process for roasting coffee beans at home - it involves a blowtorch, a colander, and a Shop-vac (just watch the video).
The distance from Charleston to Muncie is 281 miles, taking roughly 4.5 hours to travel.
Ad blocker interference detected!
Wikia is a free-to-use site that makes money from advertising. We have a modified experience for viewers using ad blockers

Wikia is not accessible if you've made further modifications. Remove the custom ad blocker rule(s) and the page will load as expected.