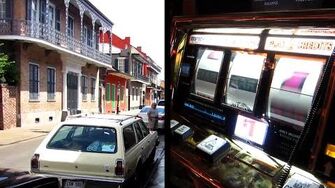 Previous Vlog (Day 1693) | Next Vlog (Day 1695)
Locations
Edit
New Orleans, LA

Marriott
Café Du Monde
Bourbon Street
Royal House

Stephen's rental car
Gulfport (and Biloxi), MS

Marriott
Mizu Sushi & Hibachi Steak House
Edgewater Mall
Stephen and Mal wake up to the sound of sirens and some silly drivers. They manage to get a late checkout, then head out to Café Du Monde for some coffee and doughnuts. Afterwards, they spend some time walking the streets, including Bourbon Street. Stephen remarks that the city reminds him a lot of Charleston and, to a lesser extent, Savannah.
Lunch is at the Royal House oyster bar for some po' boy sandwiches. Stephen mentions that they had po' boy sandwiches before with Dan on Day 858.
After leaving New Orleans, they decide to make a shorter drive than originally planned to Gulfport, MS. They drive by the Superdome and Six Flags, which were both hit hard by hurricane Katrina.
They make it to Gulfport, then meet Derek for some all-you-can-eat sushi for dinner after checking in to their hotel. They stop by Edgewater Mall, where there is a huge sand sculpture right in the centre. Afterwards, they stop by a casino, since Biloxi and Gulfport are known for their casinos. They manage to make a total of $22 from nothing after registering for their "free play" program. This means that, combining their losses from Las Vegas, they made about $16.
They end the day by chatting with Derek for a while.
The distance from New Orleans to Gulfport is 77 miles, taking roughly 1.25 hours to travel.
Ad blocker interference detected!
Wikia is a free-to-use site that makes money from advertising. We have a modified experience for viewers using ad blockers

Wikia is not accessible if you've made further modifications. Remove the custom ad blocker rule(s) and the page will load as expected.