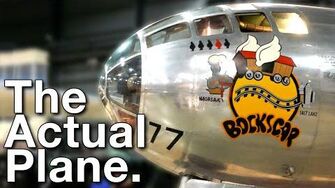 Previous Vlog (Day 2475) | Next Vlog (Day 2477)
Locations
Edit
Dayton, OH

Meadowlark Restaurant
National Museum of the United States Air Force

Muncie, IN
The Cheffcon Possee makes their way out to the National Museum of the USAF today. Jeff gives the group a guided tour of the premises. On the way home, Stephen and Alex pick up Timbits from Tim Hortons and have an intense discussion over the proper naming of the food item.
Ad blocker interference detected!
Wikia is a free-to-use site that makes money from advertising. We have a modified experience for viewers using ad blockers

Wikia is not accessible if you've made further modifications. Remove the custom ad blocker rule(s) and the page will load as expected.