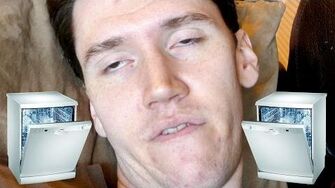 Previous Vlog (Day 2498) | Next Vlog (Day 2500)
Locations
Edit
Stephen and Mal's apartment
A golf course
Stephen and Mal are up early. There's a contractor coming in today to replace Stephen and Mal's floor as a part of the ongoing dishwasher saga.
...Except the repairman doesn't show up. He told Stephen and Mal's landlord, but no one informed Stephen or Mal that he was no longer coming. This means that both Stephen and Mal are incredibly tired and haven't been able to do anything productive all day.
On the upside, they finally manage to take a walk along one of the local golf courses with Lindsey. They hope to start upping their exercise/outdoor time now that the weather is less warm.
Ad blocker interference detected!
Wikia is a free-to-use site that makes money from advertising. We have a modified experience for viewers using ad blockers

Wikia is not accessible if you've made further modifications. Remove the custom ad blocker rule(s) and the page will load as expected.