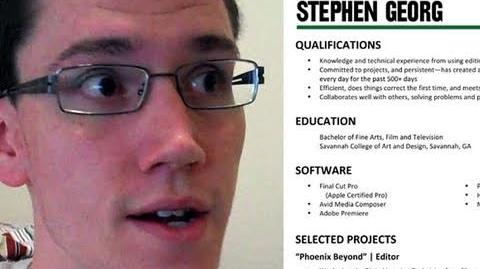 Previous Vlog (Day 494) | Next Vlog (Day 496)
Locations
Edit
Today, Stephen first points out that the April Fool's Day joke from Day 493 was a joke itself, but the 3D part was not a joke. He mentions that a few people dismissed the fact that the 3D part of day 493 was a joke, but obviously, it's because they didn't see the 3D button on that video. Stephen mentions that he has watched day 493 with red/cyan glasses and cross-eyed, meaning that day 493 was really in 3D. He then reminds everyone that the Day 500 bonus video that he mentioned on Day 473 is coming up and he will begin making it very very soon.
The last thing Stephen talks about today is his resume. He plans to submit it tomorrow, and has taken advice from his professor, his classmates, Dan, and Alex. He wants the viewers to take a look at it and give him some advice. He wants his resume to be successful and ready to go. He closes off the day by simply saying that he wants us to help him get a good job.
Stephen's resume is no longer available on his website.
Ad blocker interference detected!
Wikia is a free-to-use site that makes money from advertising. We have a modified experience for viewers using ad blockers

Wikia is not accessible if you've made further modifications. Remove the custom ad blocker rule(s) and the page will load as expected.