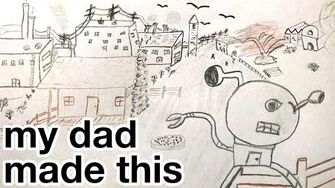 Previous Vlog (Day 2211) | Next Vlog (Day 2213)
Our Reactions to the SSB4 "Final Video Presentation"
Locations
Edit
Stephen and Mal's apartment
Stephen wakes up before Mal today, so he picks up breakfast for the both of them at Bojangles. As a result, Stephen has an incredibly productive day. While editing Fallout 4, he gets a chance to put his father's fanart into the endslate of episode 14.
Stephen and Mal also record their reactions for the SSB4 Final Presentation video in a separate video.
Ad blocker interference detected!
Wikia is a free-to-use site that makes money from advertising. We have a modified experience for viewers using ad blockers

Wikia is not accessible if you've made further modifications. Remove the custom ad blocker rule(s) and the page will load as expected.