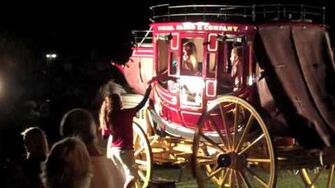 Previous Vlog (Day 304) | Next Vlog (Day 306)
Locations
Edit
Stephen's car
Burger King
Morning Star Games
Stephen's dorm
Forsyth Park
Today is the pre-release for Scars of Mirrodin, a new block for Magic: The Gathering. Stephen attends the event and ends up going 3-2-1 (3 wins, 2 losses, 1 draw).
Dinner tonight is pizza, and afterwards everyone goes to the Savannah Jazz Festival for a mandatory field trip. They watch the band Spiro Gyra perform.
Back at the dorm, they finally get a chance to play The Legend of Zelda: Four Swords. Ian also drops by for a visit and shows a picture of his son, Jacob.
Ad blocker interference detected!
Wikia is a free-to-use site that makes money from advertising. We have a modified experience for viewers using ad blockers

Wikia is not accessible if you've made further modifications. Remove the custom ad blocker rule(s) and the page will load as expected.