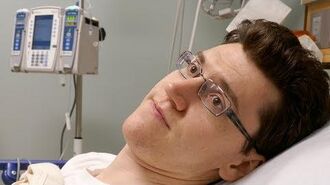 Previous Vlog (Day 2724) | Next Vlog (Day 2726)
Locations
Edit
Carpark outside ENT office
Stephen's car
Sushi buffet place
Stephen and Mallory's backyard
ER room
Hospital room
The day starts with a trip to the ENT's office, which confirms that Stephen's ear is healing well, and a snack from Dunkin' Donuts. Stephen gets a Bismark donut, and explains what it is and what it gets called in various places.
Next up is lunch with Lindsey and William (and mystery elbows) at a sushi buffet place. When they get back at the house, Mallory shows how big her plants have gotten since planting them.
Some time later, it's 11:30pm and Stephen is on his way to the ER because he got really bad stomach pain that wouldn't go away, to the point where he couldn't work. Stephen and Mallory wait a long time in the ER for someone to take a look at him even though he was in excruciating pain for quite a while.
Four hours after they first walked into the hospital, Stephen has peed in a cup and gotten an IV in his arm. Time passes, and Stephen attempts to sing some tunes to the beat of the medical equipment next to him. Six hours after they first walked in, the CAT scan results reveal that it's his appendix that is the cause of all the pain.
A Bismark donut is a chocolate-covered donut filled with vanilla frosting.
This is the first vlog to be in 4K that is not a travelling vlog.
Ad blocker interference detected!
Wikia is a free-to-use site that makes money from advertising. We have a modified experience for viewers using ad blockers

Wikia is not accessible if you've made further modifications. Remove the custom ad blocker rule(s) and the page will load as expected.