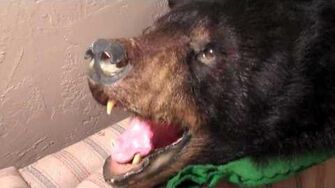 Previous Vlog (Day 273) | Next Vlog (Day 275)
Locations
Edit
Mallory's Father's House
Unnamed Dance Studio
Downtown Appleton
Unnamed Sushi Restaurant
Stephen, Mallory, and Karley leave Mark's house to go visit the home of their mother. After returning, they walk Triscuit and then head to a dance studio. Outside the studio the group has already met up with Mal's friends, Sam and Stephanie, and they Nicole, to go out for sushi. After the sushi, the group returns home to play Flux. The video finally cuts to a close-up of a bear rug, with Stephen providing a comical voice for it as he ends off the vlog.
A majority of this vlog was filmed and commentated by Mallory with Stephen only starting it off and filming a brief period at the beginning and again at the end.
The dance studio visited during the vlog was one that Mallory attented when she was in high school.
Karley: "Owww! You stabbed me in the neck."
Karley: "There's a spider...AHHHH"
Mr. Bear Rug: "Hello folks. My name is Mr. Bear Rug. Yes it is, yes it is. I just wanted to let you know that today was a good day. Yes it was, it was a very good day. Stephen and Mallory did a lot of great things with a lot of great people, and not much was shown because Mallory filmed and Stephen did not...yes he did. Tomorrow, more stuff may happen. Tune in to find out snowwwwmaaan...."
Ad blocker interference detected!
Wikia is a free-to-use site that makes money from advertising. We have a modified experience for viewers using ad blockers

Wikia is not accessible if you've made further modifications. Remove the custom ad blocker rule(s) and the page will load as expected.