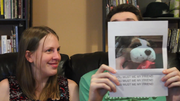 Mr. Dyslexic Heart Bear is a joke that first came up on Day 195. Stephen later recieved a letter from an annonymous person on Day 330. The dog pictured on the letter was the stuffed dog from Day 216. It is unknown why he is dyslexic.
Vlog Days
Edit
These are the Vlog days that Mr. Dyslexic Heart Bear has appeared or been mentioned in:
Library Lookin' (Day 195 - 6/7/10)
Magic Cards And Chocolate Milk (Day 216 - 6/28/10)
Mr. Dyslexic Heart Bear (Day 330 - 10/20/10)
The Mystery Disk (Day 376 - 12/5/10)
Why Is He Dyslexic?! (Day 475 - 3/14/11)
College Is A Cake (Day 554 - 6/1/11)
Irish Pirate (Day 568 - 6/15/11)
The Peoples Place (Day 858 - 3/31/12)
ANOTHER Mr Dyslexic Heart Bear? (Day 985 - 8/5/12)
StephenMail #44
StephenMail - December 2013
StephenMail - March 2016
Ad blocker interference detected!
Wikia is a free-to-use site that makes money from advertising. We have a modified experience for viewers using ad blockers

Wikia is not accessible if you've made further modifications. Remove the custom ad blocker rule(s) and the page will load as expected.