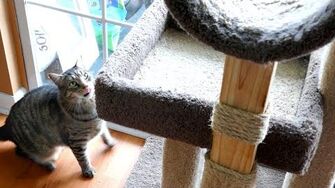 Previous Vlog (Day 2407) | Next Vlog (Day 2409)
Locations
Edit
Stephen and Mal's apartment
Stephen and Mal's clementine trees have both died. While unfortunate, getting rid of the trees has opened up some space for another tree to be placed by the window: the cat tree! Since Kepler has worms, it's probably best if the cats stay inside for now, and putting the cat tree beside the large window to the porch seems like a good way to keep them from heading outside.
Ad blocker interference detected!
Wikia is a free-to-use site that makes money from advertising. We have a modified experience for viewers using ad blockers

Wikia is not accessible if you've made further modifications. Remove the custom ad blocker rule(s) and the page will load as expected.