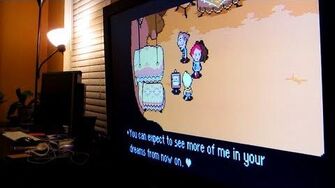 Previous Vlog (Day 1124) | Next Vlog (Day 1126)
Locations
Edit
Stephen and Mal's apartment
Mal decides to play a bit of Mother 3, and Stephen says that there has been some news related to MOTHER. (As a side note, EarthBound Central was the first website to break the news, but Stephen notes that very few gaming websites actually referenced the site despite using the translation and/or story verbatim.)
Stephen speculates as to what the news could be, but he believes it to be a re-release of some game(s) in the MOTHER series.
Following this story, EarthBound was re-released on the Wii U Virtual Console in Japan in March 2013, then worldwide in July 2013.
Ad blocker interference detected!
Wikia is a free-to-use site that makes money from advertising. We have a modified experience for viewers using ad blockers

Wikia is not accessible if you've made further modifications. Remove the custom ad blocker rule(s) and the page will load as expected.