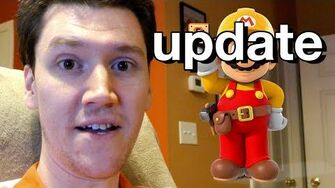 Previous Vlog (Day 2389) | Next Vlog (Day 2391)
Locations
Edit
Stephen and Mal's apartment
Morning Mario has been very successful and very fun for Stephen - as of the recording of this vlog, he has released 180 episodes of the series. Interestingly, all of the 180 user-submitted levels featured in the series so far were submitted on the first day of submissions. In other words, Stephen has not yet played any levels submitted between September and June.
Today, he decides to change that. He will now play submitted levels in a random order, allowing levels who have been submitted more recently to have a chance of being played on the series. He asks the viewers how they're enjoying the series so far.
Ad blocker interference detected!
Wikia is a free-to-use site that makes money from advertising. We have a modified experience for viewers using ad blockers

Wikia is not accessible if you've made further modifications. Remove the custom ad blocker rule(s) and the page will load as expected.