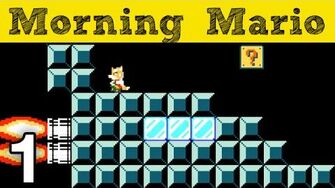 Morning Mario is Stephen's 61st Let's Play. Morning Mario allows viewers to submit level suggestions in Super Mario Maker, which Stephen then tries to complete. Morning Mario videos come out every weekday at 6am EST.
Morning Mario was announced on September 18th, debuted on September 21st, 2015, and is currently ongoing.
Episodes 1 to 100Edit
[Show/Hide]
Episodes 101 to 200Edit
[Show/Hide]
Episodes 201 to 300Edit
[Show/Hide]
Episodes 301 to 400Edit
[Show/Hide]
Episodes 401 to 500Edit
[Show/Hide]
Stephen has recently created a new system, with help from Chaz. This new system allows players to play other user-submitted levels and rate them using 1, 2, 3, 4, or 5 stars. The highest rated levels are played on Morning Mario, respectively. The Google Form will not be used as of September 25th.
Ad blocker interference detected!
Wikia is a free-to-use site that makes money from advertising. We have a modified experience for viewers using ad blockers

Wikia is not accessible if you've made further modifications. Remove the custom ad blocker rule(s) and the page will load as expected.