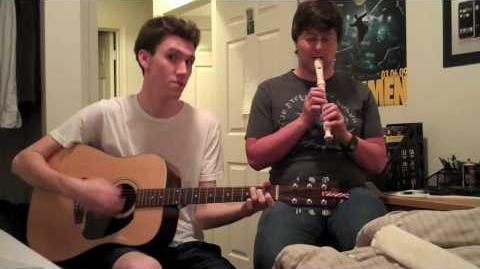 Previous Vlog (Days 165) | Next Vlog (Day 167)
Locations
Edit
Stephen and Dan make an improv song for Mother's Day. Alex interrupts in the middle of the song.
Mom... you're awesome! You birthed me! That's awesome. Mom... you birthed me! That's awesome. Mom... I wanna thank you... (interruption by Alex) Mom... you're awesome! You are the one who helped me achieve everything that I am today. Mom... you're awesome! I... have used the word awesome in this song at least 18 times! Oh Mom... Mom... your awesome. (Spoken: You know mom, it's been 21 years for both me and Stephen and uh... we just want to say thanks. um... Everything you've done is just... been really great you've... you've really raised us well and well, we are really just proud to say that we are you sons, so thanks! And thanks to all those other mothers in the world that are mothers. Thanks for giving birth to us and bringing us in this world and but also, keeping us in your bellies for nine months, as we floated in urine... Got fed... Grew body parts... So thanks!) You're awesome! This sounds like a Nirvana song! Come as you are, as you were, as you will be... I don't really know another one You're awesome! A lot of thought was put into this song, Even though it came out 80% wrong. I wanted to say that you mean more to me, that I could ever hope to... be! (short discussion on if that sounded right) HAPPY MOTHER'S DAY! We love you! Really. Audience! (Throws stuff at camera)
Ad blocker interference detected!
Wikia is a free-to-use site that makes money from advertising. We have a modified experience for viewers using ad blockers

Wikia is not accessible if you've made further modifications. Remove the custom ad blocker rule(s) and the page will load as expected.