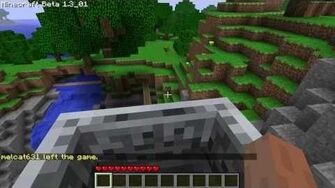 Previous Vlog (Day 481) | Next Vlog (Day 482)
Previous Update (Week 3) | Next Update (Week 5)
Stephen is joined by Dan and Mal over Skype for a tour of their Minecraft world. Some of the changes to the world include Mallory adding a garden to Stephen's house, Alex adding a pit using a map editor, Jeremy adding a lodge and a hedge maze, and Dan adding a minecraft roller coaster called "Back to the Future: The Ride 2", which Stephen, Mallory, and Dan ride at the end of the video.
The version of Minecraft featured in this video is Beta 1.3.
Ad blocker interference detected!
Wikia is a free-to-use site that makes money from advertising. We have a modified experience for viewers using ad blockers

Wikia is not accessible if you've made further modifications. Remove the custom ad blocker rule(s) and the page will load as expected.