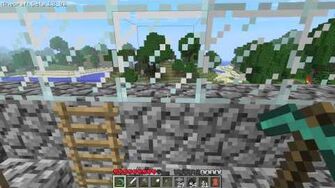 Previous Vlog (Day 446) | Next Vlog (Day 447)
Previous Update (Week 1) | Next Update (Week 3)
Giant Lava Tower Destruction! (Day 446 BONUS)
Some new people have joined the server since the previous update, namely Anthony, Austin and Justin. Stephen wanders around different people's houses, his own secret hidey hole, and a sky bridge.
He also shows off the results of an original game mode, affectionately dubbed "Communism Mode". Everyone scraps all of their gear at their houses, meet at a spawn point, head out very far in one direction, and try to survive.
This video does not feature live commentary: Stephen accidentally over-wrote his original audio.
The version of Minecraft featured in this video is Beta 1.2.
This is the first time StephenPlays is mentioned by name on the channel.  The first vlog about the channel is on Day 451.
Ad blocker interference detected!
Wikia is a free-to-use site that makes money from advertising. We have a modified experience for viewers using ad blockers

Wikia is not accessible if you've made further modifications. Remove the custom ad blocker rule(s) and the page will load as expected.