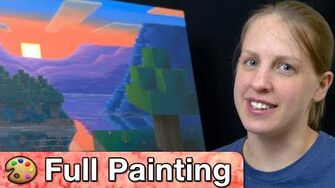 Previous Painting (Super Smash Brothers Melee - "Challenger Approaching") | Next Painting (Zelda: Twilight Princess - "Misty Castle")
"Dusk Squared" is the eleventh video game painting by Mal on MalMakes.
Mal was introduced to Minecraft by Stephen when they were dating in university - they recorded the game for Stephen's gameplay channel and have since played through a number of custom maps.
Materials
Edit
Canvas: 18x24 Gessoed in white
Favorite Brushes: Blick Studio, Liquitex Basic, and Simply Simmons
Paint: Golden Heavy Body Acrylic in: Primary Magenta, Primary Cyan, Primary Yellow, Burnt Sienna, Mars Black, Titanium White
Specialty Items: Golden High Flow Acrylic in: Titanium White, Shading Grey
Posters and prints of this painting can be purchased here.
Ad blocker interference detected!
Wikia is a free-to-use site that makes money from advertising. We have a modified experience for viewers using ad blockers

Wikia is not accessible if you've made further modifications. Remove the custom ad blocker rule(s) and the page will load as expected.