Stephen Plays: Minecraft is Stephen's 5th Let's Play, but it ended after the 12th Let's Play. It was published intermittently with Stephen's other Let's Plays. From episode 27, Mallory also joined in as a permanent co-star. Minecraft was one of Stephen's most watched Let's plays, as it was new to many people at the time of release.
It debuted on April 20th, 2011 and ended on February 19th, 2012, following the 100th episode of the LP. Following the end of the LP, Stephen and Mallory since covered some Minecraft custom maps like It's Better Together, Monarch of Madness and Mystery of the Pumpkin Castle.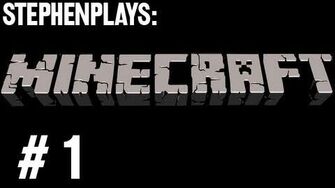 *Mallory joins as a permanent co-star
Memorable Moments from this LP
Edit
Ad blocker interference detected!
Wikia is a free-to-use site that makes money from advertising. We have a modified experience for viewers using ad blockers

Wikia is not accessible if you've made further modifications. Remove the custom ad blocker rule(s) and the page will load as expected.