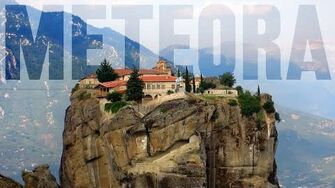 Previous Vlog (Day 2052) | Next Vlog (Day 2054)
Locations
Edit
Kalambaka, Greece
Meteora, Greece

Holy Monastery of Varlaam
Holy Monastery of Roussanou

Athens, Greece
On the final full day of their trip to Greece, Stephen, Mal, Mark, and Rhonda head up to the Monastic community of Meteora. There are some incredible views in and around the complex as well as some beautiful gardens. There are also cats. There will always be cats.
After a drive back to Athens, Stephen and Mal part ways with Mark and Rhonda. Tomorrow brings a huge travel day.
Ad blocker interference detected!
Wikia is a free-to-use site that makes money from advertising. We have a modified experience for viewers using ad blockers

Wikia is not accessible if you've made further modifications. Remove the custom ad blocker rule(s) and the page will load as expected.