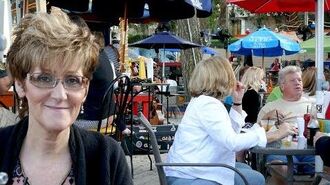 Previous Vlog (Day 2709) | Next Vlog (Day 2711)
Locations
Edit
Patios
Stephen's car
Stephen and Mallory's house
Stephen and Mallory meet Debra and Steve for dinner at Patios, which had good food (at good prices) and entertainment. Stephen's favorite thing, though, was the menu design by JIMBO, who made sure to leave his mark on the corner of every page.
Back at the house, Stephen talks about their plan for the next day. Mal will start her Dyna Blade painting and they also need to record more Ocarina of Time.
Stephen also has to go back to the ENT tomorrow, to make sure his ear is okay and stays okay. He considers that he might just be developing allergies, since when he talked to William on Day 2707, William shared that he had to take allergy medicine to stop getting ear infections yearly.
Stephen tweeted about the menu on this day, commenting only "'Menus by JIMBO' what".
Ad blocker interference detected!
Wikia is a free-to-use site that makes money from advertising. We have a modified experience for viewers using ad blockers

Wikia is not accessible if you've made further modifications. Remove the custom ad blocker rule(s) and the page will load as expected.