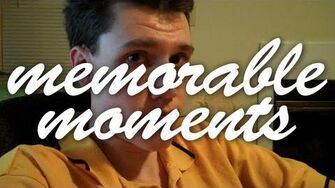 Previous Vlog (Day 656) | Next Vlog (Day 658)
Locations
Edit
Stephen and Mal's apartment
Stephen and Mal are running low on boxed meals, and this is a good thing. They have resolved to start eating healthier, and today they have some tilapia with rice pilaf. Unfortunately, Stephen's car is having some problems, so he has to get that checked out shortly.
Stephen also expresses his interest in beginning a new weekly "highlight reel" for the Let's Play channel entitled Memorable Moments. He asks the viewers to list their favorite moments in the comments below with the episode number and timecode.
Ad blocker interference detected!
Wikia is a free-to-use site that makes money from advertising. We have a modified experience for viewers using ad blockers

Wikia is not accessible if you've made further modifications. Remove the custom ad blocker rule(s) and the page will load as expected.