Memorable Moments is a series of channel highlights chosen by the viewers. It debuted on September 18th, 2011, with The Death of Sammy 3.0, and is updated with a new "Memorable Moment" every Monday through Thursday.
Memorable Moments
Edit
This is a list of every Memorable Moment in chronological order, with the most recent ones on the bottom and the oldest ones on the top: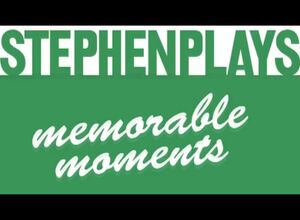 The intro for Memorable Moments was created by Dan.
A new Memorable Moment is uploaded every day in May every year to celebrate Memorable May.
The Memorable Moments intro, still by Dan, was changed on April 11th, 2013.
The intro audio was created in one take by Stephen.
On Vlog Day 1907 Stephen said he couldn't handle making memorable moments so he asked Dan if he could make Memorable Moments.
On Vlog Day 1948 Stephen received the finished memorable moments from Dan totaling 565 Memorable Moments.
The schedule of memorable moments changed on June 1st, 2015 from every Monday and Thursday to Monday thru Thursday.
On May 26, 2016 Memorable Moments merged into one playlist instead of three.
Ad blocker interference detected!
Wikia is a free-to-use site that makes money from advertising. We have a modified experience for viewers using ad blockers

Wikia is not accessible if you've made further modifications. Remove the custom ad blocker rule(s) and the page will load as expected.