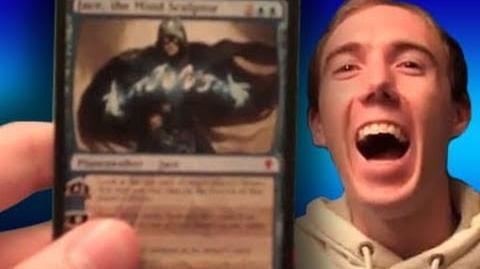 Previous Vlog (Day 109) | Next Vlog (Day 111)
Locations
Edit
Stephen's parents' car
Magnolia's
Stephen's family home
Stephen's family goes out for brunch, and Stephen talks about his hot water woes on the way.
After lunch, Austin comes over to the house to play Magic. Austin doesn't have any binders for his cards, and his birthday is coming up, so Stephen got him a binder with some sleeves. He put a few cards out of his own collection that he thought would be useful in Austin's decks, as well as a World Wake booster. When Austin arrives and Stephen gives him the stuff, Stephen comments that maybe Austin will get "Jace, the Mind Sculptor" (the most valuable card in the set) in the World Wake pack. He doesn't, but he ends up getting one in a Fat Pack that he buys later. Jeremy comes over, and they order pizza. After eating, they play a three way Magic game.
Rocko watches Austin leave through the window. Stephen says that he, Austin, and Jeremy are planning on going to the card shop in Socastee tomorrow, and that Mallory is arriving in just a few days.
Ad blocker interference detected!
Wikia is a free-to-use site that makes money from advertising. We have a modified experience for viewers using ad blockers

Wikia is not accessible if you've made further modifications. Remove the custom ad blocker rule(s) and the page will load as expected.