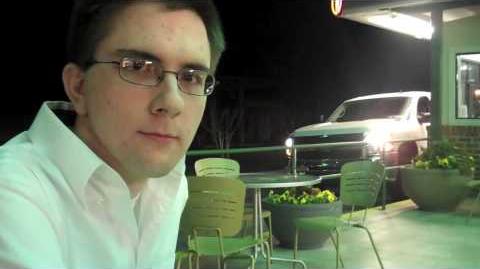 Previous Vlog (Day 118) | Next Vlog (Day 120)
Locations
Edit
The dorm at SCAD
Stephen's car
Sonic
Stephen relates a mistake that he and Taylor made in the enrollment in a class, continues a story about his old cat Mittens that he didn't get to finish on Day 114, and mentions that Justin bought a Magic Fat Pack, and the first card he pulled from the first booster inside was a Jace, just like what happened only nine days ago. The pack also contained another very rare card, Abyssal Persecutor. Stephen says that perhaps Mallory's "gift" has been tranferred to Justin.
On their way to Sonic for dinner, Stephen, Mallory, Dan, and Alex talk about their friend Corey, and see a Volkswagen Jetta with a license plate reading "BEETIS". They wonder what it means. Stephen suggests that it's the driver's last name, but the general consensus is that it's short for "diabeetus" (which is how Wilford Brimley pronounces "diabetes" in the commercials he does for Liberty Medical).
At Sonic, everybody talks about what they ordered, and Dan suggests that they film from different parts of the table. Stephen points out that it'd be like That 70's Show, and they do it. Taylor points out that they gave Dan too many burgers.
Back at the dorm, Stephen makes a play on words, calling the group's trip to Sonic a "Sonic Adventure". Stephen and Taylor have their first Art of China Class the next day.
"I did not have sexual relations with that Kia!" -Alex, doing an impression of Bill Clinton in the style of the Bill Byrd Kia radio ads.
Ad blocker interference detected!
Wikia is a free-to-use site that makes money from advertising. We have a modified experience for viewers using ad blockers

Wikia is not accessible if you've made further modifications. Remove the custom ad blocker rule(s) and the page will load as expected.