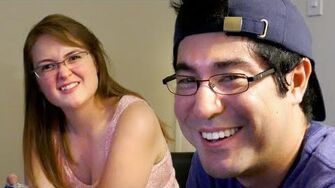 Previous Vlog (Day 2437) | Next Vlog (Day 2439)
Locations
Edit
Berlins
Alex and Hayley's apartment
Ohana Burger
Taylor joins up with the gang today! He is now working in California (on the Teenage Mutant Ninja Turtles show), so he's a lot closer to Alex and Hayley. They spend some time looking through some of Alex's old YouTube videos, then head out for burgers.
Tomorrow, everyone heads out to Tucson, AZ for Camp Fangamer!
Ad blocker interference detected!
Wikia is a free-to-use site that makes money from advertising. We have a modified experience for viewers using ad blockers

Wikia is not accessible if you've made further modifications. Remove the custom ad blocker rule(s) and the page will load as expected.