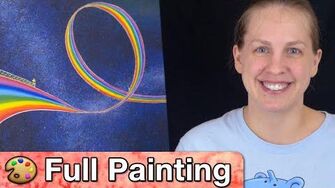 Previous Painting (Super Mario RPG - "Wishes") | Next Painting (Fallout 4 - "Ruined World")
"Spectrum" is the sixteenth video game painting by Mal on MalMakes.
To date, Mal has played almost every version of Mario Kart there is. She started playing Mario Kart 64 in Girl Scouts, then first played the DS version over the summer at a Starmen.net convention, where she and Stephen met in person for the second time. Since then, she and Stephen have completed a competitive Let's Play of all the console games in the Mario Kart franchise.
Mal ended up choosing to paint Mario Kart DS based on aesthetics: she likes the way the rainbow track is designed in this game over the others.
Materials
Edit
Canvas: 18x24 Gessoed in black
Favorite Brushes: Blick Studio, Liquitex Basic, and Simply Simmons
Paint: Golden Heavy Body Acrylic in: Carbon Black, Primary Cyan, Primary Magenta, Primary Yellow, and Dioxazine Purple
Specialty Items: Golden High Flow Acrylic in Carbon Black and Titanium White
Posters and prints of this painting can be purchased here.
Ad blocker interference detected!
Wikia is a free-to-use site that makes money from advertising. We have a modified experience for viewers using ad blockers

Wikia is not accessible if you've made further modifications. Remove the custom ad blocker rule(s) and the page will load as expected.