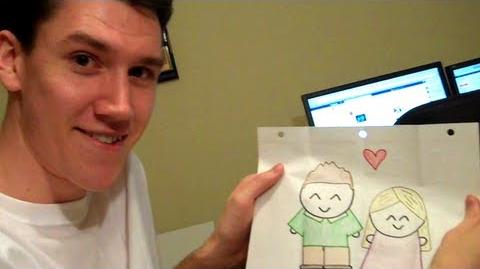 Previous Vlog (Day 821) | Next Vlog (Day 823)
Locations
Edit
Stephen opens five letters in a row because he receives them all on the same day. Max sends Yugi-Oh! cards and sends a drawing of Kirby. David's letter includes a Magic: The Gathering card. Jeremiah's letter has a picture of Stephen and Mallory. Glenn sends recipes for ranch oyster crackers and chocolate chip muffins, Dilbert fridge magnets, and a pokémon card. Alan's letter has Magic: The Gathering cards, and Stephen says that he is one of maybe three Irish Stephenites. Then Stephen talks about how he was the spelling bee champion all throughout his school years.
Mallory and Stephen do end up doing the Resident Evil 5 demo, and it is released on May 2nd, 2012.
A letter from one of the Irish viewers that Stephen mentioned was opened on Day 568.
Stephen: "Slowpoke is such a lovable creature, but at the same time, I don't know man, you just want to punch him in the face."
Ad blocker interference detected!
Wikia is a free-to-use site that makes money from advertising. We have a modified experience for viewers using ad blockers

Wikia is not accessible if you've made further modifications. Remove the custom ad blocker rule(s) and the page will load as expected.