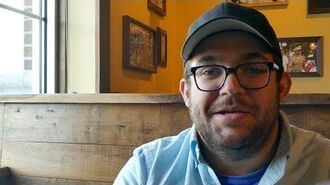 Previous Vlog (Day 2697) | Next Vlog (Day 2699)
Locations
Edit
Mission BBQ
Stephen and Mallory's house
Stephen and Mallory meet with Jarrett for lunch at Mission BBQ, since he was in the area to shoot some houses later on.
Later at night, Stephen has finished editing the last episode of Cat World (or Super Mario 3D World) and announces that they will be selling some new shirt designs and auctioning off Mallory's 'Fire Pesch' painting to commemorate the Let's Play whenever the video comes out the next day.
In other news, the Mystery Science Theater 3000 revival came out earlier in the day, so Mallory watched it with Chaz, Jeff, Thomas, Lindsey and Dan over Skype. (Unfortunately, Stephen was too busy to watch it.) Overall, Mal has mixed feelings on it, though she does bring up They Might Be Giants reference they did.
In addition, Mallory started on her "Onett Jazz" painting, which is going to be very different from her previous Earthbound paintings, "Ness's Dream" and "Edisnoom".
Mallory created her 'Fire Pesch' painting on a 7-hour art stream with Hayley, that happened on Day 2593. It was streamed on Hayley's Twitch channel, TheKubliest.

The full archived stream can be found here.
Ad blocker interference detected!
Wikia is a free-to-use site that makes money from advertising. We have a modified experience for viewers using ad blockers

Wikia is not accessible if you've made further modifications. Remove the custom ad blocker rule(s) and the page will load as expected.