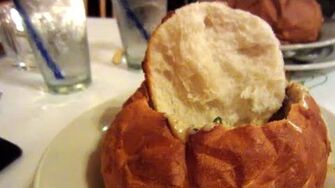 Previous Vlog (Day 1692) | Next Vlog (Day 1694)
Locations
Edit
Stephen's (new) rental car
Houston, TX

George Bush Intercontinental Airport

Beaumont, TX
Lafayette, LA
New Orleans, LA
Stephen and Mal trade in their rental car for a new one, since the oil on their older one needs to be changed. Afterwards, they try to drive down to New Orleans, but are delayed by a wreck. Stephen says that he hasn't enjoyed his time in Texas all too much, especially when it comes to the drivers. He has, however, really liked spending time in cities.
Unfortunately, the delay means that Stephen won't be able to meet up with Sam, his friend from college. He made a film with Sam back in his sophomore year entitled Mystery Dick starring Alex, Dan, and some other people. He also plugs Sam's channel, The Film Feast, where he does film reviews.
They stop by the Blue Dog Cafe for dinner and have some of the best food they have ever had. They make it into New Orleans very, very late and navigate the maze that is their hotel.
The distance from Houston to New Orleans is 348 miles, taking roughly 5 hours to travel.
Ad blocker interference detected!
Wikia is a free-to-use site that makes money from advertising. We have a modified experience for viewers using ad blockers

Wikia is not accessible if you've made further modifications. Remove the custom ad blocker rule(s) and the page will load as expected.