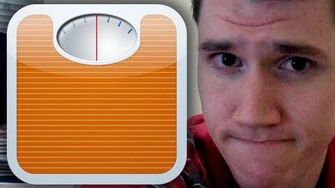 Previous Vlog (Day 516) | Next Vlog (Day 518)
Locations
Edit
Stephen reminds the audience about the soda challenge and encourages those who are participating not to lose heart, even though they may have slipped up at some points.
On the topic of health, Stephen notes that Alex has started using an app, Lose It!, to track his daily calorie intake. He has since been doing much better about eating healthier due to the visible progress on the app.
Stephen also downloaded the app and discovered that he has been eating far fewer calories than is recommended. He recommends the app to the viewers and invites them to follow his activity online.
After reading the comments on this video, Stephen created an account on another app, MyFitnessPal, that is available for both iOS and Android.
Ad blocker interference detected!
Wikia is a free-to-use site that makes money from advertising. We have a modified experience for viewers using ad blockers

Wikia is not accessible if you've made further modifications. Remove the custom ad blocker rule(s) and the page will load as expected.