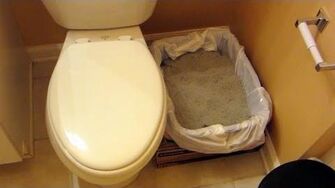 Previous Vlog (Day 1047) | Next Vlog (Day 1049)
Locations
Edit
Stephen and Mal's apartment
Mal makes some chicken for dinner while Stephen shows off the apartment now that they cleaned out all the litter. He also explains how they plan on toilet training the cats: they will gradually raise the litter box to the elevation of the toilet, then move to specialized litter rings in the toilet which gradually decrease in size. After dinner, Stephen and Mal record some Donkey Kong Country 2, which proves to be quite frustrating. To help atone for this, they treat themselves to some delicious cookies & cream ice cream.
Ad blocker interference detected!
Wikia is a free-to-use site that makes money from advertising. We have a modified experience for viewers using ad blockers

Wikia is not accessible if you've made further modifications. Remove the custom ad blocker rule(s) and the page will load as expected.