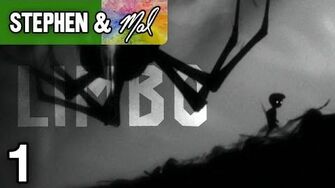 Overview
Edit
Limbo is Stephen's 70th Let's Play, and his 36th collaborative Let's Play with Mallory.
Limbo debuted on November 19, 2016 and ended on December 3, 2016. Immediately following the series' conclusion, Stephen and Mal began a playthrough of INSIDE, a game created by the same developers.
Episodes
Edit
Playlist
Edit
Mal has since done a painting inspired from this game, entitled "Purgatory"
Stephen covered this game four years prior in an episode of Demo Fridays.
Ad blocker interference detected!
Wikia is a free-to-use site that makes money from advertising. We have a modified experience for viewers using ad blockers

Wikia is not accessible if you've made further modifications. Remove the custom ad blocker rule(s) and the page will load as expected.