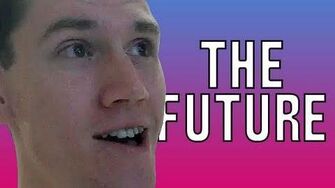 Previous Vlog (Day 370) | Next Vlog (Day 372)
Locations
Edit
Stephen shows that Rocko loves to lie down in the laundry basket after the clothes are taken out of the dryer.
He talks about an article from Kotaku. Last night was the EarthBound Fanfest, and during a livestream of Earthbound, one of the players, Matt, proposed to his girlfriend, Liz, by hacking the game. Interestingly, Stephen wanted to do something similar with Mal by proposing in front of a large group of people live, but decided against it. Also, coincidentally, Liz is a jeweler, and Stephen worked with her in picking out an engagement ring for Mal.
This leads Stephen to do some reminiscing on his own relationship with Mal. They have spent roughly 4 hours each day talking to each other on Skype, and have now been dating for nearly 1000 days. He has also been thinking about the future quite a bit. As of May, he and Mal will both be finished school and can finally begin life together. Neither of them know what they will be doing for careers, but Stephen has high hopes for the future. They would ultimately like to get married sometime next summer.
All in all, Stephen is excited for this coming year and the years to come. He asks the audience to talk about their hopes for the future. He also urges high school students to begin looking at colleges soon.
Ad blocker interference detected!
Wikia is a free-to-use site that makes money from advertising. We have a modified experience for viewers using ad blockers

Wikia is not accessible if you've made further modifications. Remove the custom ad blocker rule(s) and the page will load as expected.