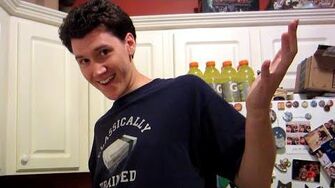 Previous Vlog (Day 1728) | Next Vlog (Day 1730)
Locations
Edit
Stephen and Mal's apartment
Stephen decides to make dinner: tilapia and au gratin potatoes (he also makes a huge mess in the kitchen). Stephen records lots of Assassin's Creed 2, and Mal says that she will try eating a homegrown pepper after Stephen's attempt to do so. Stephen offers to eat another one with her so she will feel more comfortable with it, but quickly takes it back.
Stephen does end up eating another pepper with Mal on Day 1732.
Ad blocker interference detected!
Wikia is a free-to-use site that makes money from advertising. We have a modified experience for viewers using ad blockers

Wikia is not accessible if you've made further modifications. Remove the custom ad blocker rule(s) and the page will load as expected.