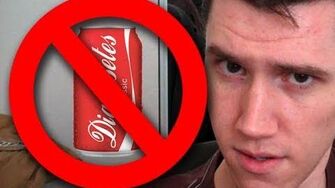 Previous Vlog (Day 495) | Next Vlog (Day 497)
Locations
Edit
Stephen's car
Stephen's dorm
It's 82 degrees out today, and Stephen is very happy - he likes the feeling of being trapped in the heat.
As a result of he and his roommates' argument on Day 494, Stephen has vowed not to drink soda until the end of school (barring the Jones sodas he has already purchased). He invites the viewers to join him on his quest.
He asks his roommates if they will also take the "no soda challenge", and they all agree to do so. The "rules" stipulate that they can order sodas while at restaurants, but they cannot bring back sodas from the grocery store for consumption at home.
Ad blocker interference detected!
Wikia is a free-to-use site that makes money from advertising. We have a modified experience for viewers using ad blockers

Wikia is not accessible if you've made further modifications. Remove the custom ad blocker rule(s) and the page will load as expected.