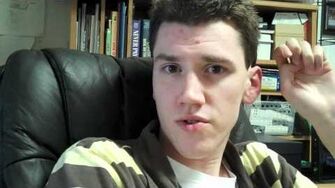 Previous Vlog (Day 573) | Next Vlog (Day 575)
Stephen and Mallory go to Walmart to look for hair clips for Mallory without much success. They have lunch with their wedding photographer and Stephen remarks that it's hard to find a photographer when one of the people who is getting married is a photographer (a.k.a. Mallory).
They head to the mall and Mallory gets a suit for her various interviews that she will be having in the near future. They go to GameStop to exchange Wii Play for Wheel of Fortune.
When they get home Stephen gets on the internet and looks up reviews for the new Final Cut X. He states that professional editors hate it and believe that Apple no longer cares for the professional market. Before he finshes the vlog he realizes that he has no title for the vlog and he asks Mallory what he should call the vlog. She replies with "Lemons."
Ad blocker interference detected!
Wikia is a free-to-use site that makes money from advertising. We have a modified experience for viewers using ad blockers

Wikia is not accessible if you've made further modifications. Remove the custom ad blocker rule(s) and the page will load as expected.