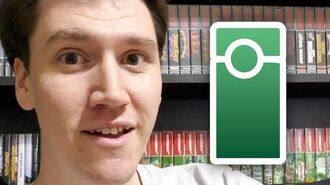 Previous Vlog (Day 2684) | Next Vlog (Day 2686)
Locations
Edit
Stephen and Mallory's house
IHOP
Stephen introduces the new feature he mentioned at the end of the last vlog: audience reaction tracks (like laugh tracks)! He got the idea from Seinfeld, since he believes they actually do make things funnier. Stephen and Mal then settle down to watch another episode of Seinfeld while eat tomato pesto fish (or bloody fish) for lunch.
Some time later, Mal has gotten some work done on her Katamari Damacy painting. On another note, Stephen and Mallory got some posters from Fangamer , including one called Console Wars, to hang up on their walls. Stephen also got to try Tabletop Simulator, and though nothing was recorded he got to familiarize himself with it.
Stephen also brings up the New York cheesecake pancakes he ate at IHOP for dinner, which he rates 6 out of 7 stars, because not enough syrup... which was actually at the table. He also discusses how IHOP actually sells a lot of desserts as breakfast.
Stephen then gets some ice cream for himself and Mallory, and confesses that he actually bought caramel syrup to go with the ice cream. Sinful, but delicious.
Before ending the vlog, Stephen thanks his patrons on Patreon... and reveals that adding audience reaction tracks is his April Fools' joke! He thought the joke was appropriate since Seinfeld has remained a prominent part of their lives since they started watching it. He also talks about how enjoyable it's been to see people's reactions to the jokes they released on MalMakes and StephenPlays.
"What's wrong, kitty cats? You're just sitting there like bumps on a log! ...except the log is the floor, it's the carpet." - Stephen to the cats
Stephen mentions in the vlog that in college, he would almost always eat the New York cheesecake pancakes whenever he went to IHOP. He hadn't ordered them since then, until this vlog day.
Tabletop Simulator is a game that allows players to recreate a tabletop game in the simulator: it allows players to import images and program the game they want to recreate.
Stephen's favorite ice cream is vanilla, pure vanilla with vanilla bean (flakes?).
This is a list of past years' April Fools' Day pranks on the vlog:
Ad blocker interference detected!
Wikia is a free-to-use site that makes money from advertising. We have a modified experience for viewers using ad blockers

Wikia is not accessible if you've made further modifications. Remove the custom ad blocker rule(s) and the page will load as expected.