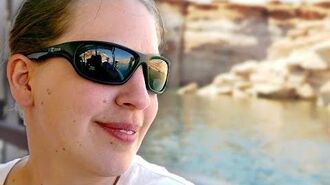 Previous Vlog (Day 2740) | Next Vlog (Day 2742)
Lake Powell Tour - GoPro Timelapse
Locations
Edit
Wahweap Marina (Page, AZ)
Boat on Lake Powell (Page, AZ)
Tahoma House (Page, AZ)
Stephen and Mallory and company are back in the same area they were in the previous day to see Antelope Canyon, but this time are going down to the marina for a tour of Lake Powell.
As they enjoy their scenic boat tour, they see various other people kayaking, fishing, paddle surfing and other activities on the water. They even see their rental house from the water!
Now that the tour's over, they're back at the rental house, enjoying the view from the back while they wait on their turn for lunch. Mallory has also been doing some watercolor paintings based on Arizona. She's painted a prickly pear, and is in progress of painting one of a sunset and one of Antelope Canyon.
Stephen and Mallory have traveled with Mark and Rhonda before and have gone with them to:
Stephen and Mallory have previously been to Arizona to:
Ad blocker interference detected!
Wikia is a free-to-use site that makes money from advertising. We have a modified experience for viewers using ad blockers

Wikia is not accessible if you've made further modifications. Remove the custom ad blocker rule(s) and the page will load as expected.