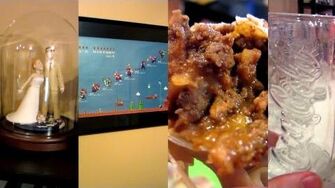 Previous Vlog (Day 1194) | Next Vlog (Day 1196)
Locations
Edit
Stephen's car
A dollar store
Stephen and Mal's apartment
In preparation for Dawn's upcoming visit, Stephen and Mal do a bit of work around the apartment, most of which involves cleaning up and hanging pictures around the apartment. Also, while at the dollar store, Mal picks up some cups shaped like Coca Cola cans.
Stephen spends the rest of the day continuing to log receipts for taxes.
Ad blocker interference detected!
Wikia is a free-to-use site that makes money from advertising. We have a modified experience for viewers using ad blockers

Wikia is not accessible if you've made further modifications. Remove the custom ad blocker rule(s) and the page will load as expected.