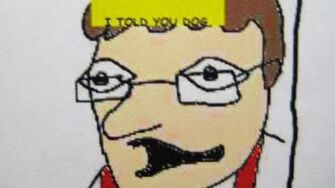 Previous Vlog (Day 461) | Next Vlog (Day 463)
Locations
Edit
Stephen gets a letter from Australia! Turns out it is from Liam, better known as DoubleYooToo on YouTube! What does his letter contain? A signed Ace of Clubs Mazda Junior Roo playing card, a letter, sketches galore, and printouts with comics galore! Plus, the aftermath of all that excitement is finally revealed!
Dan is the one holding the Flip on this Vlog day.
This is one of the rare vlog days where Stephen swears without censoring it.
The end clip of this vlog day is actually an extended clip of the beginning, with the aftermath of what happened before the transition.
Said beginning was a fan favorite moment in the first Fan Favorite Moments video.
Stephen: "I GOT A LETTER FROM AUSTRALIA! AWWWWWWWWWWWWWWWWWWWWWWWWWWWWWWWWWWWWWWWWWWWWWWW!"
Stephen: "My lungs crumpled and fell into my pancreas."
Ad blocker interference detected!
Wikia is a free-to-use site that makes money from advertising. We have a modified experience for viewers using ad blockers

Wikia is not accessible if you've made further modifications. Remove the custom ad blocker rule(s) and the page will load as expected.