Previous First 20
 |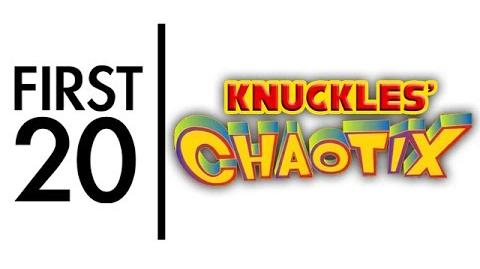 Stephen and Mal play Knuckles' Chaotix, one of the games they bought in Wisconsin and have a very frustrating time with a glitchy controller and the game's major mechanic of a bond between both players. In the end Stephen likes the idea of the game, but that it shouldn't be this hard to play a game.
It took over an hour to set up.
To unlock 2-player mode you have to play one level on a save file, then you have to exit the game, come back and load a file, and then it will give you the option of 2 players.
According to Stephen it has never been officially re-released.
"We did it, kind of!" ~ Stephen
"... And only then god forbid it!, will it allow you to do two player." ~ Stephen
Ad blocker interference detected!
Wikia is a free-to-use site that makes money from advertising. We have a modified experience for viewers using ad blockers

Wikia is not accessible if you've made further modifications. Remove the custom ad blocker rule(s) and the page will load as expected.