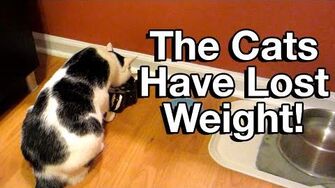 Previous Vlog (Day 2210) | Next Vlog (Day 2212)
Locations
Edit
Stephen and Mal's apartment
Stephen and Mal have been trying to get the cats to lose weight by feeding them less food, and as of now, both cats have successfully lost around three pounds. They still whine a bit during the day since their bowls aren't filled with food 24/7, but Stephen has learned that they frequently eat out of boredom. Distracting the cats by opening the blinds or throwing a ball seems to work quite well.
Ad blocker interference detected!
Wikia is a free-to-use site that makes money from advertising. We have a modified experience for viewers using ad blockers

Wikia is not accessible if you've made further modifications. Remove the custom ad blocker rule(s) and the page will load as expected.