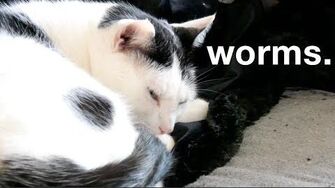 Previous Vlog (Day 2406) | Next Vlog (Day 2408)
Locations
Edit
Stephen and Mal's apartment
Kepler is sick with worms. Sagan had worms a few months back, and it seems like it's now Kepler's turn. Stephen and Mal pick up some medication for both cats, which goes down surprisingly easily.
It seems as though the cats get worms when they spend a lot of time out on the porch, so for the next little bit Sagan and Kepler will be indoor cats.
Ad blocker interference detected!
Wikia is a free-to-use site that makes money from advertising. We have a modified experience for viewers using ad blockers

Wikia is not accessible if you've made further modifications. Remove the custom ad blocker rule(s) and the page will load as expected.